Report from Thailand, Part 2: A New Emphasis on Helping Child Victims
Federal Bureau of Investigation Press Release on 20 September 2016,
Generals from the Royal Thai Police—among the highest-ranking officers in the 230,000-member national force—gathered recently in Bangkok for FBI training regarding child victims of trafficking and sexual exploitation. The message they received was simple but powerful: Helping victims is the right thing to do, and it makes it easier to put their abusers behind bars.
Child victims who receive support and assistance from law enforcement are more likely to provide better information to investigators and more willing to make the difficult decision to testify against their attackers in court, increasing the likelihood of successful prosecutions.
The Thai police leaders were among more than 100 members of law enforcement and non-governmental organizations who received training from experts with the FBI's Office for Victim Assistance. The Thai government requested the FBI's guidance and support to establish its own victim assistance program.
Major Gen. Monthon Ngernwattanam talks about why the Royal Thai Police should establish a victim assistance program. He was among dozens of Thai police executives in an FBI training in Thailand.
"The idea of victim assistance is new to the Royal Thai Police," said Major Gen. Monthon Ngernwattanam, who participated in the training, "but it's very helpful. This program will show the international community that we can try our best to fight against human trafficking."
For the FBI, a victim-centered approach in crimes against children cases is standard practice. Victim specialists are on hand during investigations to assist young victims in a variety of ways. Trafficked children might only have the clothes on their backs when recovered by law enforcement. They might live on the street and need shelter, or their parents or caregivers might be their abusers. Victims often need referrals for medical or mental health treatment. They also need an advocate for court proceedings. Just as important, they need adults in their lives who are trustworthy. Victim specialists can provide all those things—and that frees investigators to focus on gathering evidence and preparing cases for prosecution.
"This approach is very important in the U.S.," said Special Agent Ernie Weyand, the assistant legal attaché in the FBI's Bangkok office, "but it's a concept that's relatively new." As little as two decades ago, he explained, U.S. investigators "sometimes ran past the victim to work the case, and often the victim was left in the wake." It was not until the FBI established its victim assistance program in 2001 that things began to change. Today, dedicated victim specialists are assigned to every FBI field office around the country. That is the model the Royal Thai Police seeks to emulate.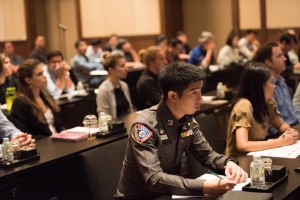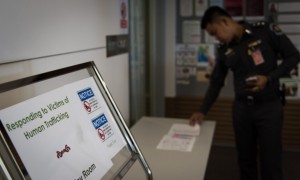 "Ultimately that approach made for better cases and made our victims more whole," Weyand said. "In the end, victims were better—they were better witnesses and they were more complete people. They weren't harmed in the process of being actively involved in an investigation."
While the Thai police force works to establish its own victim assistance program, the Child Advocacy Center (CAC)—the country's first such facility—is already putting the victim-centered concept to work. Located in Chiang Mai, a popular tourist destination in Northern Thailand, the recently opened center offers shelter and resources to victims of child sexual exploitation and other abuses, some as young as 12 years old.
The director of the Child Advocacy Center in Chiang Mai, Thailand, talks about the services her organization—which receives financial and investigative support from the FBI—provides to child victims.
The director of the CAC, who goes by the name Boom, said the center aims to be a "one-stop shop" for victims. "Many of the children here come from poor families," she said. "They do not have access to counselors or lawyers. We are here to make sure they get all that, along with after-school programs and basics such as food. We look after them."
At the same time, the children can establish relationships of trust with investigators in a friendly, stress-free atmosphere away from the sometimes intimidating environment of a police station. "The police are here working with the victims from the beginning," Boom said.
The center also has an FBI-funded interview room with state-of-the-art recording equipment where trained child forensic interviewers can conduct victim interviews—often a critical part of a sexual exploitation investigation. The recording equipment allows investigators and others such as social workers and prosecutors to view the interview in a separate room as it occurs. That way, young abuse victims are not re-traumatized by having to tell their story multiple times.
"The CAC offers help and hope," Boom said. "The abuse happened, but this place makes sure the kids are not walking alone."
It is hoped that the CAC will serve as a model for more child advocacy centers in Thailand and Southeast Asia. Failing to provide such support and services, said a veteran police detective in Chiang Mai who works with the CAC, will only perpetuate the cycle of abuse.
Without intervention, he explained, young victims may well grow up to become abusers themselves. And abusers can easily become traffickers. "We have experienced many cases of that," he said. "This is the situation that we have seen."
With regard to trafficking and the sexual exploitation of children, Weyand noted, "We are all invested in improving what's happening in Thailand. As the victim-centered approach takes hold and as victims gain more trust and confidence in the system, I think you are going to see, like we did in the U.S., a tremendous response and a greater number of these cases being investigated and prosecuted, and victims really feeling like they received justice through the process."
The director of the Bureau of International Narcotics and Law Enforcement Affairs (INL) at the U.S. Embassy in Thailand talks about victim assistance training in Thailand.
Training for the Future
The three-day Victim Support Services Conference presented in Bangkok this spring to top Royal Thai Police officers—and other victim-assistance training conducted in Thailand—was provided by the FBI's Office for Victim Assistance and funded through an arm of the U.S. Department of State called the Bureau of International Narcotics and Law Enforcement Affairs (INL).
INL funds a variety of training programs for prosecutors, judges, and law enforcement officials around the world. "In Thailand," said Rick Snelsire, INL director at the U.S. Embassy in Bangkok, "most of our programs recently have been focused on trafficking in persons—both labor and sex trafficking—which is a big issue here."
"The Thai government is engaged on this issue," Snelsire said, explaining that government officials approached embassy and FBI personnel about establishing a victim assistance organization similar to the Bureau's successful program.
The training conducted in April 2016 represents the first step in the overall plan. Phase one provided senior Thai police leaders with an overview of what a victim assistance program entails and how it could be implemented throughout the police force.
"The next phase will actually be to meet and work with the officers who would be the presumptive victim-witness coordinators at the individual Royal Thai Police stations," Snelsire said, "and to have FBI personnel on-site to share best practices on how this model works."
If the program is successful, he added, it could be expanded to include victim-witness coordinators in Thailand's prosecutors' offices as well as the police department—as is the U.S. practice.
"We're really excited," Snelsire said, "because we are doing something new and innovative that hasn't been done in this part of the world. We look at Thailand as a kind of a test case for this model. If it works, perhaps we can expand it to other countries in the region—because this problem is not unique to Thailand."
Photo Credit: Federal Bureau of Investigation
Source: https://www.fbi.gov/news/stories/report-from-thailand-part-2