Eastern Economic Corridor (EEC)
Eastern Economic Corridor (EEC): Thailand 4.0 in Action
Chachoengsao, Chonburi and Rayong Provinces have been designated for the development of the Eastern Economic Corridor (EEC), a pilot project for the economic development of Thailand's Eastern Seaboard. Over the past 30 years, these three provinces have been developed to support the fast growing industries. It was the "eras of industrial revolution". In 1987, Map Ta Phut industrial estate was established and it was the beginning of the development of Thai heavy industry, such as petrochemical, auto and electronics industries. These eras are also called Thailand 3.0. Today, Thailand is ready to move forward to the era of Thailand 4.0.
The EEC area covers over 13,000 Km2. The government has launched measures to support and accelerate the economic growth in the EEC, for instance, measures to develop public utilities, transportation systems, logistics, human resources, and investor's facilitation in the form of One-Stop Service Center.
In the future, the EEC will grow into a modern metropolitan, a hub of trade and investment, a center for regional transportation and logistics, a significant source for human resources, a tourist attraction and most importantly, the most modern Gateway to Asia.
Thailand Board of Investment (BOI) Incentives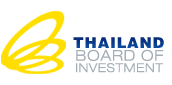 Corporate income tax exemption up to 15 years
Exemption of import duty on machinery, raw and essential material used for export products and products used for R&D
Financial incentives for investment in R&D, innovation or human resources development in targeted industries
Permit to own land used for BOI promoted projects
Facilitation for visas and work permits
BOI One-stop Service for investors' facilitation
The one-stop service center provides comprehensive information related to investment in the EEC. The center also offers services for licenses application, such as trade, import, and export licenses. Targeted projects in the EEC with special importance to the country will also receive government support in the form of Competitiveness Enhancement Fund.