In Thailand's Phang Nga Bay, a luxury resort with a conscience
(CNN) —
Thailand's
Phang Nga Bay is home to unrivaled natural beauty.
A string of limestone cliffs and small islands juts through the azure waters of the Andaman Sea like sleeping giants, creating a stunning visual dance between land and sea.
Perhaps the most luxurious way to experience the area is with a stay at the Six Senses Yao Noi, located on a large island between Krabi and
Phuket
.
Guests to this
destination
can explore the beautiful formations in a traditional Thai long tail boat or train with a Muay Thai fighter in a beach-side boxing ring. They can capture the most spectacular sunrise while having breakfast at the Hilltop Reserve, or spend the day getting pampered in the spa nestled in the hills.
Whatever you desire, it's all catered to by a dedicated group of "guest experience makers," aka GEMs.
But today I'm skipping the morning yoga session and strolling through this former rubber plantation turned lush tropical sanctuary to visit a more humble destination: the hen house.
I've come to collect freshly laid organic eggs for my breakfast.
World's jazziest hen house?
Despite the early hour, the nearly 300 chickens that call the coop home are making quite a racket. They flock towards me as I walk in, greeting me with curious looks and treating my sandal-clad feet to some inquisitive, yet painless, pecking.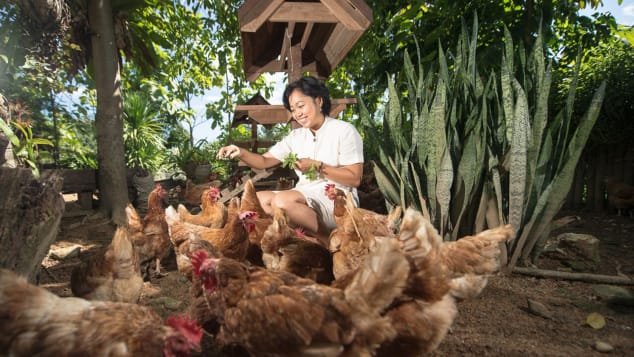 courtesy Six Senses Yao Noi
By the time I reach the nest box to pick up the still warm eggs, I have a feathery entourage in tow. But above the cacophony of chicken squawks there is another sound that piques my interest.
From speakers placed around the coop, the smooth sounds of slow jazz fill the air. Naturally, I'm intrigued.
After dropping off the eggs at the kitchen, I meet up with Pimjai Doungnate, the resort's sustainability guru.
She's known in these parts, affectionately, as "Chicken MaMa."
Born and raised in Bangkok, Pim swapped the fast-paced urban jungle for the serenity of island life. She's passionate about preserving the resort's natural beauty and ensuring it remains a sustainability leader as the flagship of the Six Senses brand.
Cue the chickens. Like all Six Senses resorts, Yao Noi guarantees its guests fresh organic eggs every day.
A couple of years ago, Pim and the team decided to stop shipping eggs in from the mainland, with its associated carbon footprint, and develop their own organic egg farm from scratch.
Today, their 300 chickens lay enough eggs to meet the resort's demands.
The chickens are fed organic food and snacks throughout the day, roam around freely and, as they're only kept for egg-laying purposes, are stress-free.
The jazz, Pim assures me, also helps.
Farm to table, table to farm
Following up on the success of the chickens, Pim and the team have expanded their animal farm.
They now have a herd of goats (for cheese, not curry) and are putting the final touches on a new duck house complete with a dipping pool (capacity 20).
Beyond providing younger guests with a sense of discovery and older ones with a sense of nostalgia, the farm plays a big role in the sustainability chain.
The ducks are brilliant at turning food waste into fertilizer that is then combined with compost produced from gardening waste to make high-quality soil that helps grow organic produce used in the hotel's restaurants.
Farm to table, table to farm.
Growth and sustainability
But, the resort's sustainability programs go beyond how it consumes food or recycles waste.
Suresh Daewar, director of human resources, says another key objective is to support the island they call home.
Ko Yao Noi's approximately 5,000 residents are predominantly Muslim and have traditionally worked in either the fishing or rubber industries. But since the resort opened its doors 10 years ago, it has proactively recruited staff from the local community.
It has also funded English language and training programs in local schools to equip students with life skills they can draw upon in the future.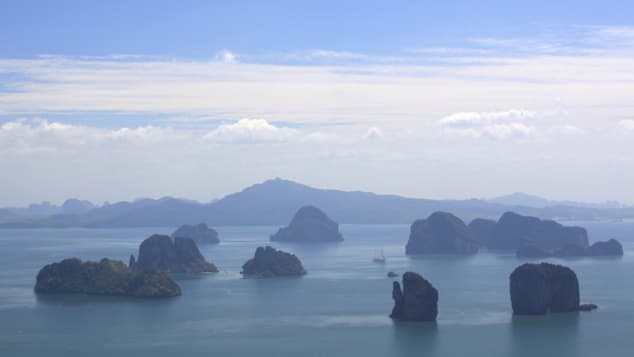 courtesy Six Senses Yao Noi
Today, one third of the hotel's staff hail from the island with plans to increase that number in the years to come.
The sustainability focus is also on display in the resort's luxurious villas and lush gardens.
Each villa is built using local timber, comes equipped with its own plunge pool, plush lounge area and is fitted with organic pillows and snacks.
All villas have an open design, allowing guests to feel in unison with the natural setting while reducing the need for air-conditioning in the hot, humid climate.
In the garden, local fruit trees have been planted to attract Oriental Pied Hornbills, native to the island.
The hotel's main hub of activity, the Main House, is surrounded by a mangrove forest that guests can walk around using a sleek wooden walkway.
Back at the breakfast table, my eggs arrive perfectly cooked. As I take my first bite I can't help but feel a sense of fulfillment.
Not just because I personally collected them or that I'm enjoying them while taking in breathtaking ocean views. But because, in my own small way, I too could support a project that's clearly making a difference.